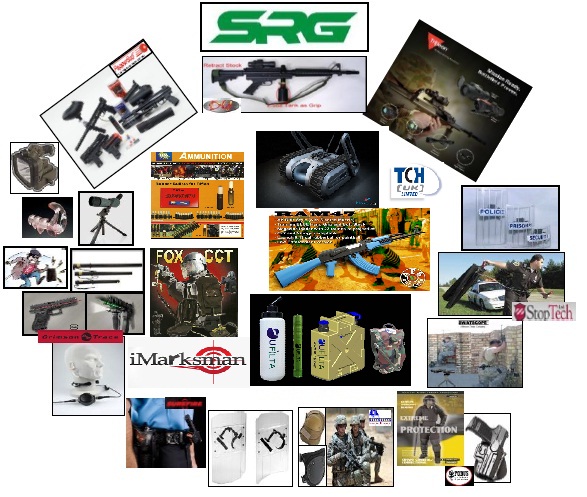 SRG Techno Pvt Ltd
is a 25 yr old company in the field of Security, Non-Lethal & Anti Riot Equipment,

Tactical/Operational Systems, K9 Solutions, Medical solutions, Disaster Relief Solutions Intelligence Gathering Equipment & Training Systems representing various renowned International Companies in India.
Some of the major product include:-.
(a) Ammunition. Specialized for Small Arms (Ruag Ammotec), 38/40mm Ammunition and Grenades.
(b) Sights. Thermal Sights, Night Vision Devices, Optical Sights/Scopes, Holographic Sights, Reflex Sights, Infrared Designators, and Laser designators.
(c) Mounting Solutions Rails and Pica tinny rails.
(d) Silencers. Sound Suppressors/Silencer, Flash Hider, Muzzle Break and adapters.
(e) Grips. Fore-end grips, Light/Laser/Infrared Grips & Laser Aiming Devices for Assault Rifles/Carbines
(f) Lighting Systems - LED & Incandescent Lights – Non-Rechargeable/Rechargeable.
(g) Weapon/Grip/Helmet/Vehicle Mounted Lights.
(ii) Hand-held Tactical/Flash/Signaling/Search Lights.
(iii) Shield/Baton Lights, Self Illuminating Lights.
(iv) Remote Controlled Lights, Emergency Lights.
(v) Laser Illuminator/ Lights.
(g) Uniform and Accessories-
(i) SWAT Suit, Tactical Dress/Pants/Suits, Covert Casual Shirts/T shirts, Patrol Rain Pants, Sweat
Shirts, Jackets and Caps.
(ii) Tactical/Police/Web/Leather/Codura/Nylon Belts and all types of Pouches.
(iii) Slings, Backpacks, Tactical Vest, Bags and Kit Bags.
(iv) All type of Eye wear/Goggles, Footwear, Knee & Elbow pads, Gloves, Watches.
(v) All types of Handcuffs and Disposable Handcuffs.
(h) Armoring Solutions - Bulletproof Jackets/Bulletproof Vests, Bulletproof Helmets, Bulletproof Plates,
Bulletproof Shield, Bomb Suits, Bomb Baskets, Bomb Blankets, Vehicle Armoring..
(i) Non-Lethal Systems:-
(i) Shock based Equipment–Shock Shields, Shock Batons, Stun Guns, Shock Suitcases, Shock
Bags, Shock Boxes, Shock Trolley and Shock Belt.
(ii) Light/Laser/Waves and Sound based Deterrent Equipment/Systems – Laser Dazer etc.
(iii) Controlled Impact Projectile and Launching/Dispersal Systems (12 Bore and 38/40mm caliber)
– Non Lethal Ammunition and Indoor/Outdoor Grenades etc.
(iv) Controlled Impact Projectile (Pepper, Inert, Kinetic Energy, Colour, Salt, Sticky Foam, Squash
Balls, Bean balls, Hollow/Solid Plastic Balls, Paint Balls, Pellets, Flash Bangs) and Electric/Gas based
Launching/Dispersal Systems – Pepperball and Rubber Ball Non Lethal Systems etc.
(v) Hand Held and Long Distance Non Lethal Sprays – Pepper, Colour
(vii) Chilly Bomb/Grenades.
(j) Anti-Riot/Riot Control Equipment.
(i)
Full Body Protector and Gear.
(ii) Anti-Riot Helmet and Gas Masks.
(iii)
Modern Anti-Riot Equipment including Impact Resistant Police Shield, Expandable Baton with
Tactical Accessories, Tonfa's & Straight Police Baton, Pepper Spray.
(iv) Group Shield or Roman Wall.
(v)
Multi-Purpose Belt and Modern Handcuffs.
(k) Tactical Equipment.
(i) All types of Night Sights – Hand held/ Face mounted/Weapon mounted – NVDs and NVGs.
(ii) All types of Holsters, Tactical Knives/Daggers and Periscope.
(iii) Search Mirror – Under-vehicle and Round the Corners.
(iv) All types of Ladders/Tactical Ladders, Vertical & Horizontal Intervention Launchers.
(v) Thermal Cameras and Tracker.
(vi) Tire Deflation and Car Opening Devices,
(vii) Aiming and Illuminating devices, Imaging and Ranging devices, Spotting Scopes, Integrated
Laser Rd Finder & Aiming Device.
(viii) Remote Controlled Surveillance Devices.
(ix) Gas Mask/Responders and HH Chemical Detectors.
(x) Digital Gun Locking Systems.
(xi) Through Wall Radars.
(l) Surveillance and Covert Operation Equipment – Audio/Video and Tracking Systems.
(m) Storage Devices/ Equipment - Rifle/Optical Systems/Communication Systems cases, Ammunition
magazine, Patrol Bags and Shipping Cases.
(n) Training Systems
(i) Simulators and Virtual Training System.
(ii) Training Weapons/Guns – Soft Air Guns and Real Action Markers.
(iii) Breaching Doors/Rams and Entry Tools.
(iv) Modern Firing Ranges including state of the art
Live-Fire and Virtual Training Capabilities,
Small
Arms Ranges to include Targets and Control Systems, Armor Range Targets and Systems, Moving Target
System, Range Controllers, Thermal Targets, Bullet Traps, Shooting Stalls, Ballistic Baffles and
(v) Location of Miss and Hit systems and Remote controlled Moving Target systems (Trackless).
(o) Covert/Overt Accessories for Hand Held communication systems.
(p) Miscellaneous Equipment- Alarm Systems, Explosive/IED Detectors, Containment Vehicles,
Respirators,Powered Air Purifying Respirator, Chemical Detector,Fire Helmets, Protection Equipment - Head, Eye,
Face,Hearing & Fall, Mining and Specialty Products, Police automobile accessories,Search & Rescue, Law
Enforcement, Commercial, Marine, Industrial and Military Equipment including Radars (Through Wall Radar).