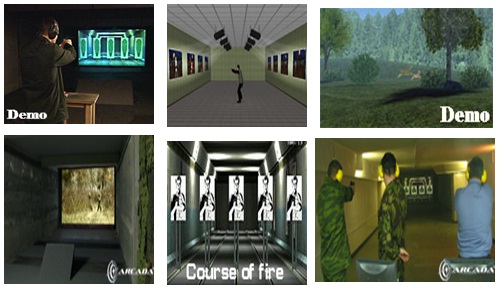 1. Presenting the most dynamic and economical virtual training system in the world. Training scenario can be
created as per local situations, terrain, weather condition and requirement. These can be video-graphed by the end-user
itself and fed to create the perfect and dynamic training scenario. These scenario (as many required) can be created as
also changed as per changing situation.
2. Arcada Interactive/Live Shooting System.

(a) Interactive Shooting Systems ARCADA® has the features of a real shooting gallery giving it an advantage
over traditional shooting simulators.
(i) Your Gun and Your Ammunition. Due to this system shooting is real. There is no imitation of recoil or
sound of the gun as there are real shots, real sound and real recoil. Conventional handguns and rifles or assault
rifles with regular ammunition or conventional air guns and air soft guns can be used for shooting at the shooting
screen.
(ii) Variety of Targets. In ARCADA® systems you can use:
(aa) Standard immovable targets
(ab) Standard movable targets, which move at variable speeds and trajectories trap- shooting.
(ac) 3D-scenarios (the whole 3D-movies with different combat situations) video scenarios.
(iii) Variety of Exercises. Possibility to change and to create shooting exercises is unlimited; various combat situations in virtual space can be modeled. ARCADA® creates exceptionally realistic environment for all aspects of firearm handling: marksmanship, decision-making, and tactical shooting.
(iv) Training of Shooting Skills at Moving Targets. Interactive Shooting Systems allow to make moving targets and unexpected situations for the shooter or change the level of difficulty of the exercise during practical training.
(v) Reviewing Shooting Results. After shooting, the target reaction is shown and the results of shooting may be demonstrated on the scoreboard. Don't have to risk going to the screen to see results, or change the paper as with some simulators, etc. Shooting results of individuals and of the whole group can be shown on the monitor or screen when practical training is finished. You can see the hits on the target,
shooting time and shooting results (points or hit sector). Shooting results can be saved in the database, printed, or shown as a separate table.
(vi) Easy-to-Use System. It is easy-to-use multimedia equipment, so it operates like a personal computer and usual multimedia.
(b) Live Fire Shooting Systems
(i) ARCADA system can be set in a place specially made for shooting (a closed shooting gallery, etc.). It can be used as a part of shooting gallery or an independent complex.
(ii) You can choose any size of the screen you want, depending only on the dimensions of the room where ARCADA® is installed. Minimal area requirements for 2x4m screen: a room 10-12 meters in length and 5 meters in width is suitable.
(iii) ARCADA® uses live fire ammunition in shooting training, but its construction is safe for the shooter and other people.
(iv) The live fire screen is constructed like a bullet-trap. It consists of Protective part (anti-return protective curtain), Stopping part (vertical steel plate) and Collecting part (collecting bin)
(v) Types of weapon and ammo allowed to use - Handguns, revolver guns, submachine carbines, smooth-bore gun and Airgun weapon.
(c) Website Link. http://www.arcada-company.com/
3. iMarksman Virtual Training System(Handguns, Rifles and Shotguns).
(a) iMarksman presents the most dynamic and economical virtual training system in the world. Training scenario can be created as per local situations, terrain, weather condition and requirement. These can be video-graphed by the end-user itself and fed to create the perfect and dynamic training scenario. These scenario (as many required) can be created as also changed as per changing situation.
(b) iMarksman Dry-Fire Target Systems™ is a perfect tool for individual training (refine the quality of the trigger pull, improve accuracy and holster-drawing techniques). It allows shooting range instructors to control behavior of the regular or Live size Picture/Targets. The system can be set up in shooting range, classroom, firearm store, or in the house. The systems consist of the
(i) DLP/LCD Projector or LCD Screen TV. Projector projects target-images on the projection screen or light painted wall.
(ii) Laser Unit with Activation Device. Your firing pin activates the laser device when the real firearm or simulator gun is dry fired. Laser Simulators and Dry fire trigger reset kit (for continuous firing) is available for M&P Smith &Wesson and Glock.
(iii) Sensor Camera. Sensor/camera is designed to detect the laser beam marks and will be registered and marked visually on the screen.
4. Customer List. Newly Introduced in India.
For more details please email us atinform.srg@gmail.com