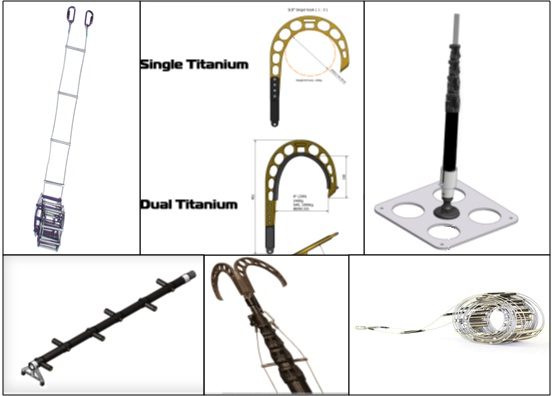 1. REBS Ladders. It is much quicker to enter a ship or a building using a climbing ladder than using a soft
ladder. This carbon fibre climbing ladder is developed by the Norwegian Forces. Strength robustness and weight are
the main factors for building a stealth fast ladder like this. The ladder can be used from a boat or by divers entering
a ship. It is also well qualified for entering buildings through verandas or windows high up.
3. Telescopic Poles. Lockable at each stage of extension with Press-to-Release buttons Easy Locking
mechanism for easy operating and fast usage Attachment provided/ hole on top head to attach hooks Optional –
Quick release of Hook with wire ladder.
4. REBS Grapnel Hooks REBS Grapnel Hooks for boarding, reaching a higher advantage point or
climbing and accessing buildings. Single and Dual titanium hooks are made with high quality materials (titanium gr.5)
and good craftsmanship to ensure great strength and durability. All hooks are tested and approved before they leave
the factory. To be used in maritime or urban environment.
For more details please email us atinform.srg@gmail.com