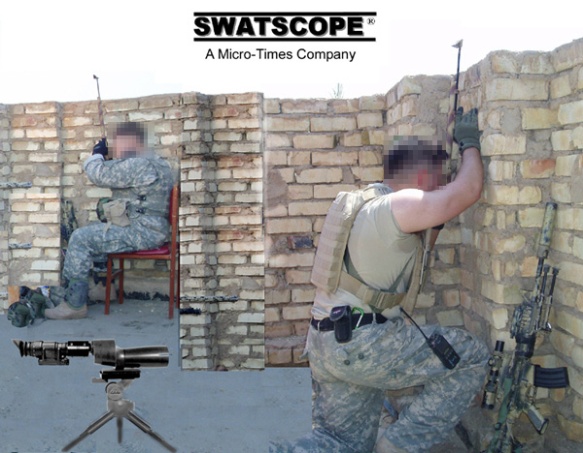 1. The SWATSCOPE® is the most economical and versatile Sniper / Surveillance device on the market today! A
small, light and easy to carry periscope which is extremely useful for round the obstacle/across the wall viewing of the
tactical/ operational scenario. With a better insight of the operational situation without exposing/risking or even remotest
hint of soldier's presence – operations can be better planned and executed.
2. The light weight handheld periscope has a variable 4X to 9X Power Zoom with the included Flashlight / Camera
or IR Laser attachment allows the user a surveillance instrument that can also be used in the dark to clear buildings,
provide an image back to a command center or paint a target with a Infrared laser (up to 1 inch diameter) while remaining
out of harm's way. The extendable slide bar provides 22 ½ inches of height advantage.
3. The SWATSCOPE® can be carried hands free with a belt hook and is stored, ready to use, in an aluminium
protective case. The SWATSCOPE® is made of a high quality aluminum alloy, highly polished glass prisms and glass
lenses. The eyepiece rubber cup can be folded back for use with glasses.
4. Client List.
(a) National Police Academy (NPA), Hyderabad.
(b) National Security Guards (NSG), New Delhi.
For more details please email us atinform.srg@gmail.com