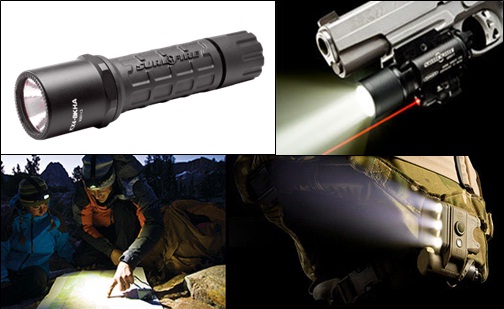 1. Handheld/Mounted Illumination Tools. Surefire Searchlight represent the world's finest compact high-intensity
flashlights and portable/permanent mount remote controlled searchlights and spotlights for outdoors, military and law
enforcement respectively.
(a) Hand Held. G2X Pro, a polymer-body version uses a high-efficiency LED-virtually immune to failure since
there's no filament to burn out or break—that provides two light output levels: a brilliant, penetrating, perfectly
pre-focused 200-lumen beam, and a 15-lumen low-output setting that lets you greatly extend the runtime per set
of batteries, an invaluable option when you find yourself miles from civilization. Press the tail cap switch for
momentary-on low, press further to click constant-on low, return to off and press or click on again within two
seconds for high. The tough Nitrolon® polymer body is smoothly sculpted for a comfortable, secure grip and
resists scratches, abrasion, and corrosion. A polycarbonate micro-textured reflector delivers a comparatively wider
beam with generous peripheral light.
(b) Helmet Mounted Lights. This compact, multiple-output Helmet Light features three white LEDs, two IR
LEDs, & one blinking IR LED that serves as a personal IFF beacon. The white primary LEDs are perfect for
general-purpose, close-work illumination; the infrared secondary LEDs are for use with NVDs and provide
an invisible light signature when viewed by the naked eye. Helmet Light features a durable, watertight polymer
body which can attach to any Modular Integrated Communications Helmet (MICH) via an included ambidextrous
mount with 20 preset positions that allow the light to be rotated 360 degrees when attached.
2. Radio Communication System. The EP220 is a single-wire, single-cable radio communication system
featuring an electronic ear coil (EA50) for all types of Hand held radio sets (Motorola/Kenwood/Yeasu etc). Its single-cable
design eliminates wire tangling by bonding the wires together into one durable cable. A 3.5 mm threaded plug, over
molded to a high strength cable, weatherproof aircraft grade anodized aluminum housing encasing a highly sensitive
omni-directional microphone as well as the Push-to-Talk (PTT) button which is ergonomically correct for both right and left
handed operators.EP220 system uses the highest-quality components to deliver crystal-clear, two-way radio
communications. Incoming communications are covertly channeled directly into your ear, reducing the potential danger of
others overhearing messages you receive. Outgoing transmissions are equally as clear thanks to the water-resistant,
high-gain microphone with integral windscreen for eliminating distracting wind noise.
3. Ear Sonic Defenders. EP3/4 Sonic Defenders protect your hearing without interfering with your ability to hear
routine sounds or conversations. Their double-flange stem design fits most people and provides a Noise Reduction
Rating (NRR) of 24dB. Sounds, at safe levels, are allowed to pass through into the ear canal, while potentially harmful
noises (above 85dB) are reduced via a proprietary design that incorporates the patented Hocks Noise Breaker® filter. EP3s
include attached stopper plugs, which can be inserted for further protection, and they also block out lower-level noise like
that heard on a plane. The right/left color-coded Sonic Defenders are made from a soft but durable, hypoallergenic polymer
and are ergonomically shaped, with an adjustable-stem design, providing a secure fit, all-day comfort, and extended
product life. And their low-profile design means they can be worn while wearing a helmet or mask, or while using a phone
or headset.
4. Edged Weapon.
(a) EW-04 Delta Folding Combat Knife. The Delta folder is one of Sure Fire's best selling edged weapons.
And for good reason- it's a perfect balance of functionality and fighting capability. It features an attenuated
drop-point blade made of Crucible® CPM® S30V® steel, renowned for holding an edge, plus a wire cutter.
Screwdriver, hex wrench, cord cutter, and window-breaking point, all integrated into its strong, lightweight titanium
frame.
(b) EW-05 Echo Fixed Blade Combat Knife. The Echo was designed to the specification of elite
special warfare personnel to function as a combat/utility knife in battlefield conditions, including combat swimmer
operations. Its serrations and asymmetrical grind planes create a sleek blade with a thick, tough spear point that
doesn't compromise its cutting geometry. Made from carbon steel, its blade is coated with a layer of rust-proofing
to help protect it from corrosion that can quickly take a toll on a knife. Its ergonomically designed micarta handle
covers a cutaway steel frame (to reduce weight) and enables a secure grip in even the wettest conditions. An
injection-molded sheath—with integrated DMT diamond sharpener—holds the Echo securely in place when not in
use.
(c) EW-11 Charlie Folding Utility Knife. A no-nonsense folding knife built for the rigors of daily use.
Charlie's modified spear-point blade is made of edge-holding 154 cm stainless steel and features a finger
guard/flip-open lever. The frame/grip titanium with an integral frame lock on one side and sculpted 7075
aluminum on the other-provides a secure, hand-filling hold. A high-retention stainless steel pocket clip completes
this combat-tough knife.
7. Client List. National Police Academy (NPA), Hyderabad.
For more details please email us atinform.srg@gmail.com